Embroidery By Georgio Clothing Townsville
At Georgio Clothing our embroidery specialists can advise on the design of your logo and digitise the design on site, utilising the world-leading Australian digitising software from Wilcom.

We also hold a catalogue of over 25,000 stock embroidery designs available for immediate purchase. These designs can be adjusted, and lettering added to suit, to produce a unique logo for a fixed price of $82.50.
Our embroidery department utilises 4 fully computerised Tajima 15-needle machines, each capable of producing in excess of 1,000 stitches per minute.

We offer fixed prices for all embroidery work, and our current schedule of prices for set-ups and embroidery to customer-supplied garments is summarised below. Lower prices per embroidery apply to garments purchased from us, as detailed in our online shop.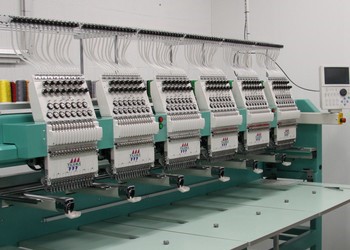 Set-up Costs for Pocket Size Logo
(Up to 9cm square and in up to 15 colours)

Set-up Costs for Large Logo
(Up to 20cm square and in up to 15 colours)

Set-up Costs for Business Name (Text only)

Re-Formatting of existing designs
$82.50 to $165.00 (Price subject to quotation)


$165.00 to $220.00 (Price subject to quotation)


$33.00

$33.00
Price Per Embroidery (On Goods Supplied By Us)
Pocket Size Logo

Large Logo (Jacket Back)

Business Name (Text only)

Individual Name (Text only)

Surcharge For Towels & Bags
$6.60

$16.50

$5.50

$4.40

$1.10
- Lasting Quality from Local People -